This website is using an illegal copy of the JNews theme – Do you want to fix this JNews Theme error? Well, we have a paid solution for you. This problem generally occurs when you are using Nulled, Cracked, or GPL JNews Theme.
JNews developers have modified their code recently and from then when are we updating the JNews theme suddenly the website and admin pages look like this –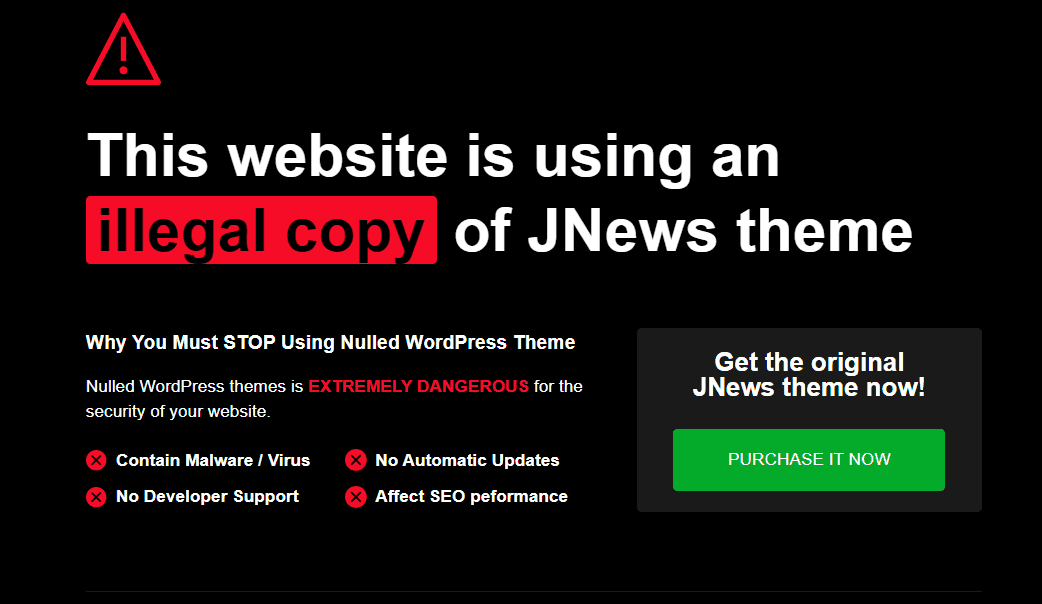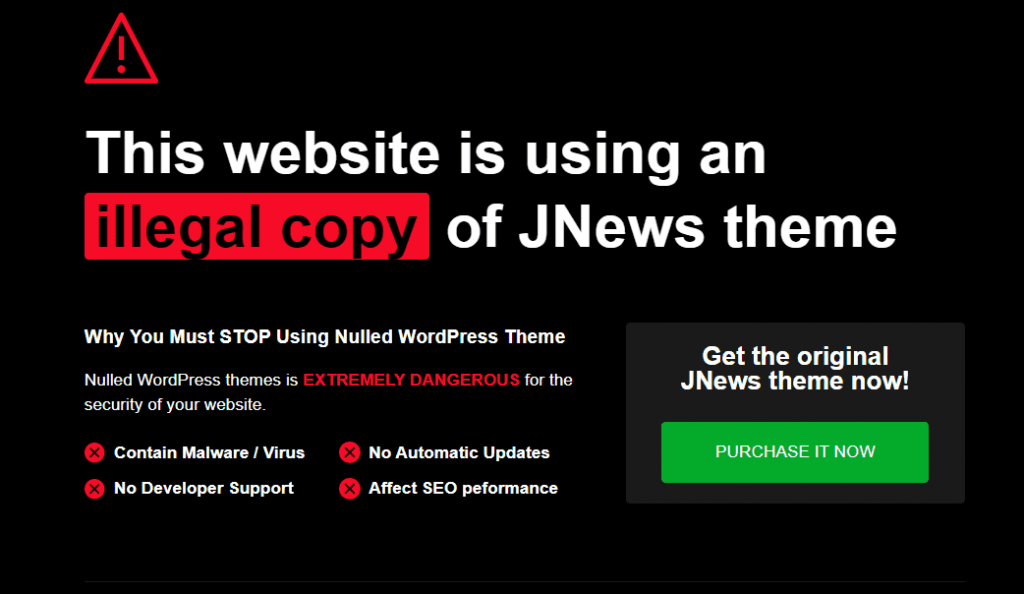 In the screenshot, they have clearly mentioned that the problem can be fixed if you buy the original JNews Theme.
Once you have purchased the developer license, you can follow the steps provided below to fix this –
After purchasing the theme –
Download the official theme version at ThemeForest.
Access your server via FTP or directly use your cPanel or Hpanel or file manager and browse to "wp-content/themes/".
Replace the "jnews" folder with the official theme copy downloaded.
Clear your browser cache and Website cache, Also clear your cloudflare cache if you are using any
Check if the problem is fixed
Alternative option to fix – This website is using an illegal copy of JNews theme
We are providing you an alternative option as well. You can save a huge amount by following this. The error will be removed and your website will be working normally after this.
Steps to Fix – illegal copy of JNews theme error
Buy the JNews theme from our store & download the theme package.
The package contains JNews Parent Theme, Child Theme, documentation, and required plugins. Follow the provided steps once you have the files ready.
Step 1 – Login to cPanel or file manager and go to wp-content/theme section. You can also use FTP for the same.
Step 2 – Delete the jnews folder, do not delete the JNews child. Once deleted your WP-Admin will be working
Step 3 – Login to WordPress to deactivate & delete JNews Essential and JNews JSON-LD plugins from the plugin section. For better functioning, make a list of the JNews plugins that you have installed and delete all.
Step 4 – Now clear your browser, WordPress, and Cloudflare cache if any
Step 5 – Once done then install the new JNews parent theme which you have downloaded from our website and activate it.
Step 6 – Once done install the required JNews plugins which you have deleted.
Step 7 – Your problem will be fixed now
Note – You can get in touch with our support team through the support ticket if you fail to follow the steps. Please make sure you are providing server or cPanel details.
Another Option –
Join a suitable membership and create a support ticket from my account section to get the JNews error fixed.
Let's get started and get your problem fixed immediately. you can check out comments for the authenticity of the methods we have described. Yet, we will suggest you take a backup if possible.
For any queries, create a support ticket from your account section or comment below.
Note – If you want our team to fix this for you then, create a support ticket after the purchase and provide cPanel and WordPress credentials or FTP if needed.
Thank you.